Small-batch, hand roasted
At J. B. Peel we carry on a tradition thirty years in the making.  We source the finest green coffees available from around the world and roast them in small batches every day to ensure you enjoy the freshest and most delicious cup of coffee available.
Our retail store is now open. We offer curbside pick up and shipping.
7361 South Broadway
Red Hook, NY 12571
(845) 758-1792
Mon - Fri - 8am - 5pm
Saturday - 8am - 5pm
Sunday - Closed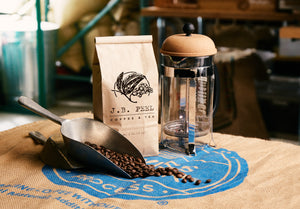 Roasting Tradition
William Jameison grew up in Rhinebeck, and worked much of his life in restaurants: first in Rhinebeck and Kingston, and later down in Florida. 
He and his wife, Alexandria, met while opening the Flying Fish Café, a restaurant in Walt Disney World. They married, had two kids, and lived for a decade-and-a-half in Florida, before moving back to the Hudson Valley about 10 years ago. William now manages Rhinebeck Wine & Liquor, while Alexandria works as a teacher with immigrant and refugee children in the Albany area.
The couple had purchased their morning cup o' joe from JB Peel, a long running, small batch coffee company in Red Hook (favorite brews: Ethiopian Yirgacheffe and the Tivoli Roast). So when Alexandria noticed a tiny for-sale flier last winter in the store, the Jameisons reached out. 
Owner, roaster, and proprietor Gil Klein, it turned out, was very sick, and in the last stages of a battle with cancer. Klein, a roaster and flavored-tea maker in California, had founded the company in 1989 with its namesake, Jeremy Peel, a Kenyan-born Englishman who had grown up on a coffee plantation and who wanted to move into full-time roasting. Peel passed away in 1991, leaving Klein to develop and grow the business into what it is today, making custom blends for local restaurants and generally pioneering house-roasted coffee at a time when such things were not terribly common on the east coast.
Places you can find JB Peel coffee
Adams Fairacre Farms Newburg
Adams Fairacre Farms Poughkeepsie
Adams Fairacre Farms Wappingers
Another Paradise Cove in Long Lake
Canada Lake Store in Caroga Lake
Cascades in Hudson
Cheese Louise
Cornwall Coffee Co. & Mercantile
Espresso Cafe at Bearsville in Woodstock
The Farmer's Wife in Ancramdale
Greig Farm
Inn the Woods Bed & Breakfast in Hyde Park
Jaeger Haus
Little Apple Cafe in Woodstock
Love Apple Farms in Ghent
Meisner's Heritage Farm
Millbrook Golf & Tennis
Otto's Market in Germantown
Red Hook Raiders High School
Saunderskill Farm in Accord
Serevan Restaurant in Amenia
Shawn's Fresh Fish at Migliorelli's in Mt. Tremper